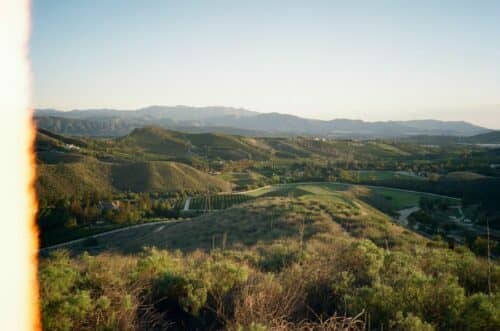 Are you looking for a relaxing farm stay in California?
Are you on a mission to get away, relax, and unwind in a beautiful peaceful farm stay in California that seems so far from civilization even though it is only an hour west of Los Angeles, an hour east of Santa Barbara and 12 minutes drive to town?
What a relaxing farm stay in California means to us:
For us, enjoying a farm stay in California means going on long walks in the countryside, indulging in organic avocado toast, making fresh-squeezed lemonade, eating oranges, grapefruit, tangerines right off the tree.
It also means breathing in the fresh air, and being surrounded by an exotic combination of palms, pines, and eucalyptus groves. Walking up the hill to take in the beautiful sunset on the rolling hills overlooking California farmland.
What are the accommodations?
The accommodations for this rejuvenating farm stay in California orchard are a cute stand-alone cottage — one large room with a fully equipped kitchen (refrigerator, stove, dishwasher, microwave) and a bathroom with shower.
There is also a large outdoor space with table and chairs and lounge furniture. Everything is selected to be charming, relaxing, and comfortable.

We know that guests might need to work even when they are on a relaxing getaway at a farm stay in California.
To accommodate guests who need to work remotely we offer high speed internet. We currently have 100Mbps service going to property and access point on the roof of the cottage.
Zava Ranch is located in a gated community. The accommodations are super friendly to kids and elderly people with limited mobility. 15 minute drive to stores, restaurants, and other conveniences.
Guests will be able to access most of the 20 acres of the organic lemon and avocado orchard and the gated community. There are lots of opportunities for beautiful hikes or bike rides in California countryside.
Kids of all ages are welcome.
Does farm stay in California orchard sound interesting?
See our listing on Airbnb, our listing on VRBO or contact us for pricing and availability.